This post contains affiliate links. As an Amazon Associate I earn from qualifying purchases.
People are starting to wonder, "Is Dogecoin a good investment?" I've seen the question floating around the Internet and decided to look it up for myself.
Many of us recall Doge as an Internet meme of a friendly-looking Shiba Inu. I remember my kids occasionally using Doge as an avatar for various online games, such as Agar.io.
So, from the Chief Magistrate of Venice to a loveable dog to a cryptocoin.
Birth Of A Doge
Dogecoin is a cryptocurrency that was released in December of 2013 as a joke. Billy Markus and Jackson Palmer soon found the joke they created reach a capitalization of $60 million in January 2014.
Markus wanted it to be a fun cryptocurrency that could reach a broader population than Bitcoin. He also wanted to keep it clear from the controversy of other coins.
Dogecoin had an exceptionally fast production schedule, to begin with. By June 30, 2015, its 0ne-hundred-billionth coin (DOGE) had been mined. Production was initially supposed to stop there, but the decision was made to produce DOGE indefinitely.
What To Do With Dogecoin
Similarly to BAT, Dogecoin was and is primarily used as a tipping or reward system across the Internet. The altcoin is given by fellow users to people who make enjoyable content across the web. (I'm taking notes, now.)
Dogecoin is used with a wallet on your computer, your smartphone, or a website.
You can use it to buy or trade goods, services, and other currencies (crypto or fiat).
The website says, Dogecoin is an open source peer-to-peer digital currency, favored by Shiba Inus worldwide.
Dogecoin can be purchased or sold on the following cryptocurrency exchanges: Gate.io, BtcTrade.im, Poloniex, HitBTC, ZB.COM, Bittrex, Fatbtc, Sistemkoin, Upbit, CoinEgg, Indodax, Kraken, Ovis, QBTC, Exrates, Koineks, YoBit, CoinExchange, Cryptopia, Exmo, Livecoin, BCEX, Coinsquare, Instant Bitex, BX Thailand, CoinEx, Bitsane, Bitbns, BTC Trade UA, LiteBit.eu, Trade Satoshi, Mercatox, OpenLedger DEX, C-Patex, Stocks.Exchange, Bit-Z, Crex24, CCEX, Novaexchange, SouthXchange, Cryptohub, Bleutrade, Graviex, Tidex, Bittylicious, Coindeal, Bits Blockchain, Tripe Dice Exchange, BitFlip, CoinFalcon, Tux Exchange, Coinbe, cfinex, Cryptomate, BiteBTC, FreiExchange, and Robinhood.
I don't have accounts on any of these platforms, although I could make one with several of them if I so decide.
Dogecoin Today
Keeping in mind that DOGE was never meant to become a lifestyle investment, its value – while never high – has been plummeting lately. At this moment, the value is about $0.002.
People aren't giving up on it, though. Search the web, and you'll find that millions of people want little pet Doges. They're everywhere. Despite its almost complete lack of value, it remains highly popular.
Make yourself an online wallet for Dogecoin by going to their website's Getting Started page and selecting your operating system. Sadly, ChromeOs and iOs are unavailable at this time.
Thankfully, I have an Android.
Making A Dogecoin Account With Cattington
From my Android phone, I click the little Android box and it sends me to the Google Play store. The Dogecoin Wallet has a rating of 3.6, but what are people expecting?
I click Install and wait. The 3.83 MB app installs and downloads quickly. After opening, the whole thing doesn't reek of promise.
At the top is a beige bar with a code square and the message, Synchronizing with network, 7 months behind. I guess months aren't very long in Doge country, as it soon lowers to 6. I remain hopeful.
Below that it informs me that I have no Dogecoins. Then explains that I can trade for traditional (fiat) money or sell goods or services or earn by working. I'm intrigued.
In red is the frightening message, Do not use this wallet for many transactions with lots of small payouts like for example mining pool or faucet payouts. These can slow down the wallet to a halt and make your coins inaccessible!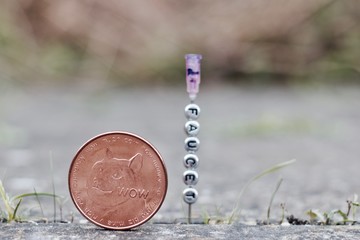 Already fraught with terror, I see the very bottom, "Use at your own risk." Then they have the kindness of a link to safety notes.
Since I'm still 6 months behind in synchronizing with the network, I read the safety notes.
I will copy them exactly, may Dogecoin forgive me; the credit is all theirs:
Dogecoins are stored on the device. If you lose it, you'll lose your Dogecoins.
This means you'll need to back up your wallet! Use the in-app backup facility for this, rather than a third party backup app. Keep your backup safe and remember the password.
Before uninstalling (or clearing app data/wiping your device), transfer your Dogecoins to another wallet. Remaining Dogecoins will be lost.
Payments are irreversible. If you send your Dogecoins into the void, there is almost no way to get them back.
Keep your mobile device safe! Do not root your device. Do only install apps you fully trust. Malicious apps could be trying to steal your wallet.
Keep the risk low! Store only a reasonable amount for day use.
Solid. Now I'm only 4 months behind after typing all that. There are two arrows I can click on. One points left that says REQUEST COINS and one points right that says SEND COINS.
I have no coins to send, so I'll request. I type in 100 DOGE for a dollar value of $0.2696. Now all I need is someone to give me some. The app seems to think I have someone nearby for Bluetooth or I can send the code to be scanned by the sender.
Does anyone out there want to send me some Dogecoins? The wallet has the convenience of its own address book if you'd like to make me a regular.
As I mentioned above, I have no accounts with any of the platforms that deal with DOGE, but if I get serious, I can always make one.
Now I'm down to 3 months. *sigh*. 9 weeks *yawn*.
So, my phone gets a notification that I now have 6 peers connected. Interesting. Down to only being 4 weeks behind…*deep breathing* 9 days … 8 days … DONE!!!!
Now I can see exchange rates. Well, that took a while, but I was writing, anyway.
Is Dogecoin A Good Investment?
Not for profit. Dogecoin is more of a labor of love. You either think it's cool and fun or you don't fool with it.
The dollar or other fiat value of the Dogecoin is so negligible that unless you enjoy hard-core mining just for fun, there's no gain. Yes, DOGE is mined the same way LTC is mined.
How about you? Up for some Dogecoin? Share your questions and experience in the comments below!
Please follow and like us: